Copyright © Linetop ltd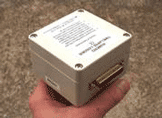 Data loggers record the events detected by visitor sensors as either hourly or daily totals. The logger memory is a removeable cube finished in coloured plastic. The cube containing the latest results can be retrieved and taken back to the office to be read there on a desktop PC. A replacement memory cube is fitted into the logger so as to continue recording the counts coming from the sensor. It can be really inconvenient to have to use a laptop in the outdoors due to rain, sun or dirt, and so our system does not require it.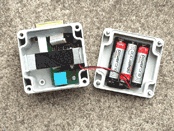 The memory cube is fitted on to a row of gold pins in the logger. It has enough capacity for up to 10 months of hourly counts or several years when recording daily counts. The logger connects to its sensor via a 25-pin socket. Also inside the logger are three AA-batteries which will power it for a year when driving most types of our visitor sensors. All our loggers work with all our visitor sensors and so they can be swapped about at will. Having a socket is really convenient too if the weather is bad: you simply grab the logger and take it inside your vehicle to recover its memory cube.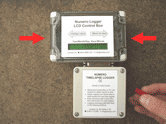 Loggers are set up with a simple plug-in control box, again avoiding the risks of using laptop PCs in the outdoors. The control box is rugged; it has a liquid crystal (LCD) screen and two buttons on the sides to enter the date and time of day. This is similar to setting up a digital wristwatch. Only one control box is purchased to manage all the counters that have been deployed, and this reduces overall project costs. A reset switch inside the logger is triggered by touching a bar magnet on the reset label. This is far safer than having a push-button. A reset makes the logger ready to re-use.